Smart TVs are a blessing to everyone. You can stream your favorite content, connect your devices, share screens, and use it for social media scrolling.
Now, brands are going a little ahead by introducing incredible connectivity options and game modes in Smart TVs to make it possible for game lovers to connect their consoles and enjoy gaming with more resources than before! And that's how the brands can grab the attention of all the gamers out there.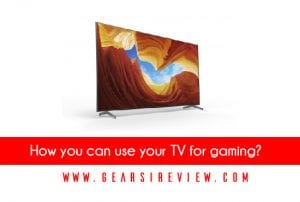 We know playing games on mobile phones/PC monitors is quite old fashion. Now gamers are not enjoying connecting their PlayStations to small-size screens with fewer resources. TV brands took it as an opportunity and made the Smart TV innovation interesting for everyone.
Moreover, it is easy to use your TV for gaming. You don't have to get into the tricky process of connectivity. New Smart TVs possess built-in Wi-Fi so you can download your favorite games and enjoy in a matter of a click.
Related :  Best 75 inch TV under 1500
However, if you want to connect your TV with a third-party gaming device, you can easily find an HDMI port at the back, connect your gaming device to the TV by plug-in cables, and make some relevant TV changes. Don't worry anymore about the number of HDMI ports if you want to connect speakers, your phone, or anything other than your PlayStation. Every Smart TV has at least three or four HDMI ports plus USB cable ports available at the back.
Related : Best Outdoor TV Antenna for Rural Areas
On the other hand, many brands are now coming up with exciting gaming features to enhance the TV' gaming experience. If you're opting for the latest models, you must look for a Gaming mode. It is an easy and quick way to turn your TV into a gaming gadget. Besides, low input lag, fast response time, VRR support, etc. are additional features that you would get to play your 4K HDR games on big screens.
Related: