Inside any abstraction is a gaudy narrative that refuses to come out. In an abstraction is a blueprint that contains a house but leaves no clues to its construction. Although Victoria Haven's supple geometries are light on their feet, they have an old-soul resonance. Strike them and they'd ring out, like gongs. Her most recent exhibit at Greg Kucera is a sleight-of-hand look at her sources, which are all about location, location, location. X marks the spot, Washington State.
NORTH X NORTHWEST MYSTIC (Gore-Tex® version), 2010 Gore-Tex®, silver marking film, thread 24 x 27.5 inches
Victoria Haven's work is on exhibit at Greg Kucera, through Feb. 19.
See info on other exhibits here at Another Bouncing Ball
Collectors who hire experts to solve problems that don't exist till help arrives are responsible for the equivalent of bad face lifts on old masters. What the artists intended too frequently recedes under an abrasive cleaning or a deadening layer of varnish.
Current practices discourage irreversible interventions. That means John Currin's work is a little safer than artists who preceded him, such as Picasso, although having the money to buy good advice doesn't guarantee it will be heeded. I know a collector who washed a DeKooning sculpture with detergent, rubbing till the surface became mottled.
The best thing about the Picasso exhibit at the Seattle Art Museum stems from its history. More than 90 percent of the 100-plus paintings. sculptures and drawings was not sold but saved by the artist and transferred after his death to the Musée Picasso in Paris, now closed for renovation. Because this material never entered the market and its care was excellent, the surfaces remain fresh. John Russell once described a painting as a "vegetable construct that changes in time." But time has barely touched what's on view till January 17 in Seattle: the evidence of the man's hand, a fusion of formal innovation and shaggy heat, his love of the body and faith in its ability to endure the tragic without losing its nerve.
Nice to see David Wojnarowicz (wana-row-vitch) back in the news, making the monkeys dance. It's no surprise that the usual people want to use their deliberate misunderstanding of his work to rally their frightened base. It's also no surprise that the Smithsonian once again proves to be cowardly.
Remember its Enola Gay exhibit from 1995? The examination of this country's use of the Atom Bomb started as scholarly and turned into a my-country-right-or-wrong cheering section, after suitable pressures were applied. (A protest letter about the final product at the Smithsonian signed by more than 50 distinguished historians, here.)
Now it's David Wojnarowicz's turn, 18 years after his death at age 37 from AIDS complications. His four-minute video, A Fire In My Belly, was part of Hide/Seek, Difference and Desire in American Portraiture at the National Portrait Gallery until someone, anyone, complained. Naturally the Smithsonian caved. Museums around the country plan to screen A Fire In My Belly, including these in Seattle…
FULL STORY…
Humans see, humans do: After the first horse drawn on the first cave and the first pot incised with a decorative line, everything became imitation. You don't need a weatherman to know which way that wind blows, or that in the contemporary period, it blows harder.
In selecting the 12 artists featured in Image Transfer: Pictures in a Remix Culture, associate Henry curator Sara Krajewski looked for those whose engagements with image recycling make them visual mix masters of note, those who aren't just riding the currents but helping to steer them.
On the whole, she succeeded. Image Transfer is exactly the kind of exhibit the Henry should be doing. It has wit, depth and subtlety with an undertow of numbed tragedy. Image Transfer describes a trash world that constricts rather than enlarges upon the idea of possibility, as if we all live in a snow globe filled with images raining down on our indifferent heads, except that we too contribute to the glut.
What does the glut bring? Just as God told Moses not to look directly at the Burning Bush, Jordan Kantor suggests we refrain from direct engagement with the image world, for the same reason. Circuits will be blown, eyes burned.
I think people will forget me when I'm dead. I'm going to add a codicil to my will, to forbid anybody from speaking my name.
Bill Cumming, from profile in the PI, 2005
When died of heart failure at 93 Nov. 23, he was the last member of the original Northwest School, a group of painters who brought national prominence to the region in the 1940s and 1950s. Cumming was a teenager in the circle of Mark Tobey, Morris Graves, Guy Anderson and Kenneth Callahan.
Although for reasons of health and politics Cumming didn't paint much in the 1950s, he was back by 1961 with a retrospective at the Seattle Art Museum. By 1980, he'd moved from black and gray to color, favoring what he calls sour tonalities.
More than 60 years ago, he went to a John Cage concert at Cornish College of the Arts with Morris Graves, who proceeded to heckle Cage from the audience.
Full story…
At long last, Alden Mason is soloing at the Seattle Art Museum. SAM's assistant curator of modern and contemporary art, Marisa C. Sánchez, brought the exhibit to fruition after the departure of Michael Darling, who chose the 13 paintings from the museum's considerable Mason holdings and solicited an addition to fill a gap.
Mason exhibits tend to be crowded, operating on the artist's own principle that if a little is good, more is better. This one feels open, light and full of air. More radically, it ranges across the artist's multiple styles, from 1947 to 1986, and manages to find a thread. In this show, his restlessness reads like a virtue.
It opens with his punched-up tributes to landscape painter Ray Hill in the late 1940s and his super-flat Pop abstractions in the 1960s, moves to his Burpee Garden series in the 1970s, and concludes with squiggle and scratch paintings in the 1980s.
As the site says, when searches go too far, underwear can express your views. (via Dominic Holden.) There's still the excessive radiation to consider.
If Joseph Beuys is right that anything can be art and John Cage is right that anything can be music, then Roy McMakin's furniture makes perfect sense. His chairs, tables, chests and stools both deliver and undermine the idea of utilitarian subservience. Within the fine craftsmanship of their construction is a subversive insistence on a right to be wrong.
Currently at Ambach & Rice is McMakin's Five Chairs and Ten Tables, a sweet little show with a large contemplative back beat.
Read more here:
Chris Engman's photos are evidence of his interventions. Using the deserts of Eastern Washington as stage sets, he constructs material plays about his process. Six barrels become a triangle, the red always in the middle bottom and the other colors rotating. He shoots a photo, rearranges the barrels and shoots again. Time passes in the sky, which shades from blue to mottled dark to white.
VARIATIONS, 2010 Archival inkjet print 52 x 44 inches Edition of 6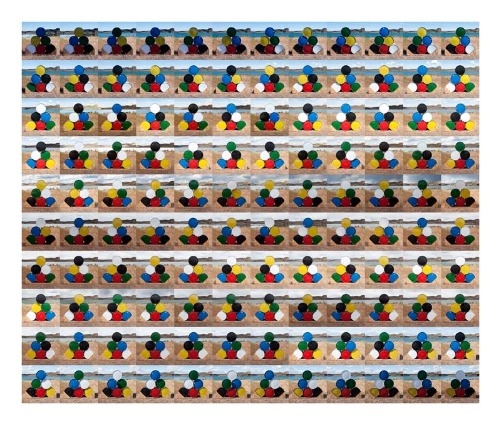 Titled Dust to Dust, the exhibit at Greg Kucera Gallery is overhung, which is a problem for an artist whose strategizing can devolve into the aridly clever. These photos need more space than they get. Like crabs in a barrel, however, the ones on top manage to hook a claw over the edge and climb out.
In the 11 years he has operated his aesthete's paradise/curio and jewelry shop in Ballard, called Souvenir, Curtis Steiner has never featured himself in a solo show, till now, through Dec. 3.
The insects in his ink drawings on paper – Insects and Alphabets – step on dainty feet out of 19th Century England, when entomology was a pastime as common as chess, surrounded by the kind of elegant handwriting that helped define the leisure class.
Read more here: