How much does it cost to become a governor?
Gubernatorial races were given special attention in the 2010 election because of the power the office holds for advantageous redistricting in the 2011 session, and as a result found candidates raising amounts of campaign cash that rivaled many federal candidates.
To date, governors and governor-elects in all 50 states have raised over $453.7 million on behalf of their campaigns for their current seats, 14 percent of which was provided by the candidates themselves. Because not all states hold gubernatorial elections in the same year, the table here displays winning gubernatorial candidate contribution totals from 2007-2010, depending on when the candidate ran.
The governor who raised the least amount for their current seat was Butch Otter of Idaho, who won his office this year with $705,000.
By now, I assume you've heard that Wikileaks has released another batch of documents, this time regarding American diplomacy and foreign policy.
My two cents: Much of what I've read that's been reported out of these leaked documents so far isn't really too surprising…
One thing did catch my eye, however:
The leaked documents revealed that Secretary of State Hillary Clinton ordered U.S. diplomats to act as spies — work with the intelligence services to spy on their diplomatic colleagues, including our British allies and the United Nations leadership.
Apparently, even global health, food and women's issues were targets of this spy game.
Governor Gregoire announced today she will issue an Executive Order requiring agencies to use performance-based contracts when contracting for state services. According to the governor, the State Auditor's Office will work with agencies to identify best practices and how to design performance-based contracts. This is a great first step toward full contracting reform and could help facilitate additional proactive efforts to tap the experience of the private sector to deliver services.
The next step is to reform the state's competitive contracting law to make it easier for agencies to use performance-based contracts in the first place.
Ultimately lawmakers should simplify the 2002 competitive contracting law while removing the requirement that contracting be subject to collective bargaining negotiations with public sector unions. This would allow managers to use all the tools the legislature has provided to deliver services to the public in a way that makes best use of taxpayer money.
Another potential reform would be to create a Washington Competition Council to provide agencies assistance in identifying services that could benefit from competitive performance-based contracting and report these savings to the legislature and the public.
A proposal was introduced to do this last session (SB 5409) but it was not acted on by the legislature.
While public employees should be encouraged to participate in competitive bidding processes, union leaders should not be able to exercise a veto over a management decision that a public service can be improved and streamlined through price competition. Adopting a formal Competition Council would help agency managers identify cost savings and public services that could be improved through competitive performance-based contracting.
Encouraging state agencies to use competitive pricing to lower the cost of delivering public services, and at the same time improve service quality, is one of the reforms necessary to solving the state's long-term deficit problem. Properly implemented, a well-managed competitive pricing policy would lead to a more cohesive state government that focuses on core services, while using competition to tap the efficiencies of the open marketplace.
Jason Mercier is the director of the Center for Government Reform at the Washington Policy Center. He serves on the Executive Committee of the American Legislative Exchange Council's Tax and Fiscal Policy Task Force and is the private sector chairman of ALEC's Fiscal Federalism Working Group. He is a contributing editor of the Heartland Institute's Budget & Tax News, serves on the board of the Washington Coalition for Open Government, and was an advisor to the 2002 Washington State Tax Structure Committee. In June 2010, Governor Gregoire appointed Jason as WPC's representative on her Fiscal Responsibility and Reform Panel. Jason holds a Bachelor's degree in Political Science from Washington State University.
Now that the weather has calmed down a bit and nothing serious is on the weather horizon (except for some good snowfalls in the mountains), it's a good time to talk about some new powerful local weather websites.
New UW Weather Radar Interface
The first is a new weather radar website hosted by the UW. Created by Harry Edmon (the atmospheric sciences dept computer guru) with lots of input from Dale Durran, department chair, this new local radar website combines all the local weather radars…both U.S. National Weather Service and the Canadian Environment Canada radars…into one seamless package (see sample below):
Full story…
Seattle Housing Authority Director Tom Tierney recently briefed City Council members on his agency's plan to redevelop the 561-unit Yesler Terrace Public Housing Project. The discussion was timely because SHA is now taking public comment through Dec. 13 on the draft Environmental Impact Statement outlining alternatives now under consideration for the Yesler Terrace site. Early next year, the City Council also will be taking up SHA's request for a rezone, alley vacations, and other land-use changes needed to accommodate their plan.
Unfortunately, Director Tierney gave no assurances to City Council members their makeover of Yesler Terrace would not result in a dramatic loss of existing public housing so badly needed in our city, and at a cost of millions of our limited local and state housing dollars.
Yesler Terrace is the last of Seattle's historic garden communities located immediately south of Harborview and across the freeway from City Hall. It sits on 30 acres of prime development property overlooking downtown and Puget Sound.
You're eligible for a unit at Yesler Terrace if you earn no more than 30 percent of area median income. That's about $23,000 a year for a three-person household. You then pay about 30 percent of your income for rent.
As it happens, the average income of families living at Yesler Terrace now is only 18 percent of median, about $15,000 a year for a three-person household.
A recent countywide housing report indicates there are about 70,000 families in King County (including Seattle) with incomes at or below 30 percent of median — but only about 400 privately owned, unsubsidized units in the entire county are available at these lower rents. In all of King County, there may be about 6,000 subsidized units offered at rent levels affordable to these families. No wonder waiting lists in Seattle and at other housing authorities in King County are years long.
For 70 years, Yesler Terrace has provided a safe affordable haven for thousands of low-income people, people of color and first-generation immigrants until they can find jobs, transition into the larger community. Gary Locke grew up at Yesler Terrace. So did Jimi Hendrix, as did many others who moved on to make their mark in our community. In fact, it still performs this important function.
The 561 units at Yesler Terrace are arranged in a townhouse configuration with courtyards and walkways between them. SHA's plans call for demolition and replacement of all but the recently built community center, with a mix of mid-rise to high-rise offices, retail, and as many as 3,000 to 5,000 units of "mixed-income housing." About 2,000 to 3,000 of the units would be sold as condominiums with the rest offered at varying rental rates. All existing infrastructure, sewer lines, water and electrical systems, and even the current street grid would be torn out and replaced.
In his presentation, Director Tierney contradicted past promises to replace all of the public housing in the new development. While still promising "one for one" replacement of all 561 public housing units, he made it very clear that some of these replacement units would be provided off-site "somewhere near the existing site." He didn't say how many.
Robbing Peter to pay Paul
SHA also did not disclose how many millions more it will cost for construction and the purchase of the extra land to build a portion of the public housing units off-site.
Over the last 15 years, SHA turned its other "garden communities" at Rainier Vista, High Point and Holly Park into dense mixed-income developments (spurred by the availability of HOPE VI federal funds). In the process, about 2,000 public housing units were removed, with only about half replaced on the redeveloped sites.
The other half SHA claims to have replaced off-site. However, nearly all of these so-called off-site replacement units were built by siphoning off millions from existing housing levy dollars, state tax credits and state trust fund dollars, which were intended to add to our city's stock of low-income units, not replace them. It was a case of robbing Peter to Pay Paul.
Some of the off-site replacement units also were actually built by non-profit housing developers. SHA simply "site based" some of their existing rent vouchers, meaning they assigned them to housing projects developed by the non-profits, allowing them to bring the rents down on those units. But most of the cost required to build these also came from existing state and local funding sources.
This is why we say there's been a net loss of about 1,000 low-income public housing units from the redevelopment of Rainier Vista, High Point and Holly Park.
Now it looks like the same thing is going to happen at Yesler Terrace. Indeed, Director Tierney has explicitly spoken out against any actions the City Council might consider which would restrict SHA's access later to existing city levy revenues, or other local and state sources. He reiterated that in a letter to Council members last week.
Displacement in the local housing market
Based on Director Tierney's presentation to City Council members, it appears that prior to breaking ground at Yesler Terrace, SHA plans to relocate current residents into the areas east of Boren and into Squire Park all the way to 14th Avenue and south to Jackson, including a sliver of Little Saigon. They'd proceed with redevelopment on site and resident relocation in phases.
SHA promises that all existing public housing residents who would like to return will be entitled to do so. That claim rings hollow if they plan to remove half or more of the public housing units now on site. SHA, however, is counting on the probability that some relocated households will get settled in their new location, while others will drift away from SHA housing altogether and get absorbed into private housing. At Holly Park, Rainier Vista and High Point, only about 25 percent of displaced households actually chose to return.
At this point you may be thinking, "If people are living where they want to live, what's the problem?" The fact remains that our city will still experience a net loss of hundreds of public housing units if all 561 are not replaced on site in the new Yesler Terrace. Furthermore, the displacement of relocated residents has an impact on the surrounding housing market.
Already in the area east of Yesler Terrace SHA has acquired three apartment buildings containing about 90 units where, as Director Tierney has acknowledged, some of the relocatees will be moved. Sixty of those 90 units actually were occupied when SHA took them over. Now only 30 remain occupied. That means at least 30 households already have been displaced due to Yesler Terrace redevelopment plans.
SHA also is negotiating with Seattle Emergency Housing (SEH) to take over the building SEH now occupies. SHA is talking about a joint development there with Sound Transit — with a trolley barn below and low-income housing above — possibly for more of the people relocated from Yesler Terrace. SHA also has been in talks with King County for use of part of the site where the juvenile detention facility is now located and is exploring purchase of other sites in that area. SHA is seeking a $30 million federal "housing choice" grant to help with these acquisitions.
What will happen to the people already living in unsubsidized relatively low-rent units now on First Hill, the International District and upper Rainier Valley as SHA continues to buy up buildings there for relocation of Yesler Terrace residents?
Affordable for whom?
Even as SHA plans to turn Yesler Terrace over to denser, more lucrative uses, including offices and condos for the rich, it claims that a portion of the rental housing units on site would go to "workforce housing" serving those at 80 percent of median income – perhaps as many as 950 units. And some of the units would be offered to households with incomes at 60 percent of median.
The average wage earner in King County earns about $44,000 a year or about 56 percent of median for a one-person household, according to current data from Washington Employment Securities. It's even pushing it to say that any units SHA creates on site serving those at 60 percent would be affordable to the average worker. Nevertheless, the addition of rental units at these so-called reduced rates allows Tierney with a straight face to claim there will be an "increase in low-income units on site." Recall that households now living at Yesler Terrace earn on average about 18 percent of median.
Privatization at work
During the briefing, City Council member Nick Licata asked Director Tierney to comment on the prospect of added costs in building more of the public housing units off site. Instead of answering the question directly, Tierney turned it around. "Don't forget," he said, "if we include more public housing on site, then that's more of the site we cannot turn into income-generating opportunities."
This response — in our mind — raises an important question and gets to the heart of our concern. What should be SHA's underlying goal for redevelopment of Yesler Terrace? The Authority seems to be viewing the site first as a cash cow. There it is on prime real estate above downtown with million-dollar views of Puget Sound. SHA's first thought seems to be "Let's make a profit," rather than thinking of how it can take advantage of the land's attributes to maximize the number of low-income people who can be served. This latter objective happens to be SHA's founding mission that has guided it throughout its 70-year existence since its creation during the era of Roosevelt's New Deal.
Director Tierney's response indicates that SHA intends to do at Yesler Terrace what it did at Rainier Vista—first obtain land-use changes from City Council that maximize its value, then sell off significant portions of the site to private developers to create the offices, retail and expensive housing called for in SHA's plans.
This leads to another important question. How much of the 30 acres now in public ownership does SHA intend to auction off to the highest bidder? What percentage of the site will be forever lost to public use and public control?
Director Tierney also told City Council members that SHA would offer some of the land on site for sale to private developers "at discounted prices" on condition these developers create and offer units at 80 percent of median income levels. No one thought to ask Tierney how long the developers would be required to offer these units at these "workforce" thresholds–30 years, 20 years, 10 years or only five years?
Public waste, private gain
The plan for Yesler Terrace likely will require removal of all the existing sewer, electrical, road and water/drainage systems now on site–even though SHA has provided no documentation that these systems are in need of full replacement. At Holly Park where SHA tore out the entire infrastructure, we found documents indicating those systems had years of remaining life despite SHA's public claims to the contrary. Replacing those systems at Yesler Terrace will cost tens of millions in extra expenses not otherwise required. This wastes the dollars we need to maintain and expand our very-low-income housing stock.
Director Tierney hinted that SHA may also seek parks levy dollars for the green space planned for the site–which even if achieved won't compensate for all the green they're going to remove on site, including most if not all 22 large city-designated "heritage trees."
There's something seriously wrong with this picture. Other than the workforce housing at rents hundreds of dollars above what most workers can afford, what is the public benefit here? And if there is a benefit, is it anywhere close to compensating for handing over all this valuable land that for decades has been held in the public trust and which if sold would be forever sacrificed?
On site, the scenario for redevelopment breaks down like this: Get the area upzoned to maximize value of the land, then lease the office space at top dollar or sell the land off at top dollar to an office developer, contract with other developers to build condominiums, then sell the condos and the public land under them. Both the contractors and SHA then walk away with a lot of money–to be used for their next SHA-developer "public-private partnership" that again benefits an extended food chain of contractors, attorneys, bond councilors, bankers and architects. Then repeat the cycle again and again. This appears to be SHA's modus operandi. Over time an increasing percentage of SHA housing inventory shifts to higher-income units. Less of its land and housing are offered to the very poor, and public housing becomes a thing of the past. SHA becomes something completely at odds with its original mission to serve the poorest in our city.
Pictures speak louder than words
At the outset of his presentation, Director Tierney said, "We now know how to do housing better" for the poor. We know the current Yesler Terrace is not a "healthy environment," he remarked and later referred to the neighborhood as "distressed." (Tell that to the residents). Our goal, he explained, is "to create a healthy accessible neighborhood."
As with SHA's previous projects, when Director Tierney says Yesler Terrace will be healthier, we ask, "For whom?" If at least half the public housing units are removed on site and in the end only 25 percent of current residents ever return, just who is benefiting from this redevelopment plan? Certainly not the poor.
Below, here's what exists currently on site at Yesler Terrace, a photo that Director Mr. Tierney showed to the City Council during his presentation.
Like the other garden communities SHA has replaced, most of the units at Yesler Terrace are ground-related, built on solid concrete foundations. SHA has spent at least $24 million over the last two decades upgrading and maintaining them. They're capable of lasting many more decades if simply maintained. In a recent letter to the City Council, SHA alleges that at minimum it may cost at least $62 million to repair Yesler Terrace units. Divide 561 units into that number and it comes out to about $107,000 per unit. Even if the cost is that high, it's less than half of what it takes to buy the land and build a new unit of subsidized housing. That's the going rate now commonly paid out by the non-profits and SHA when building a new subsidized unit.
Many of the existing units have access to yards, shared courtyards and a nearby community garden, play areas and a community center. To call this distressed or unhealthy is a gross distortion. For decades, in fact, SHA in many forums touted how livable and vital this diverse community is.
Below are shots of the former "old" Rainier Vista before it was redeveloped–community gardens, play areas right out the back door, townhouses, garden apartments, common courtyards where people could congregate.
Here's where some displaced public housing residents from Holly Park and Rainier Vista respectively were relocated (see below). This is characteristic of the kind of replacement housing that likely will be offered to current Yesler Terrace residents–much denser, with common shared stairways and hallways, smaller crowded units not at all suitable for large families, no ground-related access, parks or play areas several blocks away.
Where would you rather live and raise your kids – in the old so-called run-down housing further above or the new housing (at left and immediately above)?
Our alternative: Retain what's there, fix it, modernize it…..
In a different political reality, we'd pursue a plan of incremental renovation and modernization over a number of years that retained most (perhaps even all) of the current lower-density ground-related public housing units, all of the tree canopy, and older historic community center (where Jimi Hendrix once played and Bruce Lee taught martial arts).
The historic character and integrity of the site would be maintained. We'd build on the courtyard concept, maximizing the number of ground-related public housing units. We'd encourage even more community gardens and places for non-organized play in and between the courtyards, just like the photos above of the old Rainier Vista.
At the margins we'd consider adding some higher-density new development, including a mix of income-generating uses such as retail, more-expensive housing and office space–but at a much more modest scale than SHA proposes. As much as possible of the current infrastructure–streets, sidewalks, sewer, water, utilities–would be retained. And there'd be minimum disruption to the lives of current residents. No public property would be handed over, i.e. sold off, to private parties. And above all the site would continue to fulfill its historic mission – to serve the poorest of the poor in our city.
John V. Fox is coordinator of the Seattle Displacement Coalition
MORE INFO
Questions or comments about Yesler Terrace plans? There's a public hearing on the draft Environmental Impact Statement tomorrow from 6 pm to 8 pm at the Old Yesler Terrace Gym, 835 Yesler Way, Seattle.
HAVE YOUR SAY — HERE'S HOW
Dec. 13 is the deadline to provide your comments about the Yesler Terrace plans (specifically, about the Draft Environmental Impact Statement).
E-mail comments to: YTEISComments@
seattlehousing.org
Or mail:
c/o Seattle Housing Authority
ATTN: Stephanie Van Dyke
120 Sixth Avenue North
P.O. Box 19028
Seattle, WA 98109-1028
Chris Engman's photos are evidence of his interventions. Using the deserts of Eastern Washington as stage sets, he constructs material plays about his process. Six barrels become a triangle, the red always in the middle bottom and the other colors rotating. He shoots a photo, rearranges the barrels and shoots again. Time passes in the sky, which shades from blue to mottled dark to white.
VARIATIONS, 2010 Archival inkjet print 52 x 44 inches Edition of 6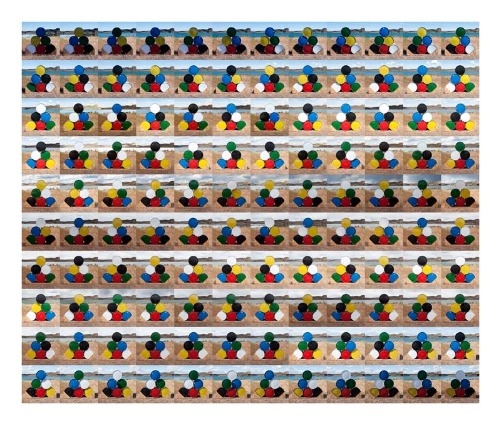 Titled Dust to Dust, the exhibit at Greg Kucera Gallery is overhung, which is a problem for an artist whose strategizing can devolve into the aridly clever. These photos need more space than they get. Like crabs in a barrel, however, the ones on top manage to hook a claw over the edge and climb out.
The debate about microfinance in India is not really about whether or not it's in crisis or at risk of imploding. It's about why it's in crisis and imploding.
Jonathan Lewis, a social investor and microfinancier, goes over the basics in the Huffington Post and can't seem to make up his mind if India's (or more precisely, the state of Andhra Pradesh's) experience with microfinance is "Mendacious or Magnificent." Lewis says the media:
"… are reporting on the impending implosion of microfinance in India, particularly in the state of Andhra Pradesh where subprime microlending has caused, or so it is alleged, a measure of microloan debt bondage, debt-induced suicides and rich profits for international investors, mostly Americans."
Lewis criticizes this "hysteria," says it is unsupported by the facts and makes the case for microfinance as still a viable means for fighting poverty.
David Roodman, a microfinance expert with the Center for Global Development, actually went to India to find out for himself, as he reports today in "When Indian Elephants Fight." Continue reading →
ALSO BY TOM PAULSON
Courageous Ethiopian journalist honored

Experts say UN didn't bring cholera to Haiti; it was already there

Commercial sexual exploitation of children thrives on secrecy as the illegal trade operates underground. Teenagers naturally try to keep things secret from adults, which can make warning signs of prostitution hard to spot for parents, teachers and other adults in a child's life.
Leslie Briner, associate director of Residential Services at Youth Care, which runs a new home for children who have been recovered from prostitution, said that there are some things that adults can be looking for:
The biggest red flag should be a hotel key. "A girl of 13 or 14 has no need for a hotel key," Briner said. Another is a quick turnaround in behavior from "I'm just a kid acting out" to "Someone else is taking care of me, I don't need you anymore."
Other warning signs can include talking about an older boyfriend that the girl is very secretive about. "One of the cons that's used [by pimps] is 'I'm a record producer, you'd make a really good backup singer. Come down to my studio,'" Briner said.
Having unexplained amounts of cash, new cell phones that weren't purchased by parents, or a drastic change in physical appearance can also signal that a pimp is getting involved. "One of the things that pimps do when they're grooming girls is taking them in to get their hair and nails done, and buying sexy clothes," Briner said. "Body modification is the breakdown of the old identity and construction of a new one."
Another important thing for adults to do is simply ask if there's been any prostitution going on, Briner said. Many teachers, nurses and counselors either don't know that commercial sexual exploitation of children is a major problem or are afraid to ask about it, but they need to ask: "Have you ever exchanged sex for money or a place to stay?" Briner has known girls who went for years ashamed to talk about their involvement in prostitution, but they did act out in other negative ways, and no adult ever asked that question.
Another important prevention tool is to tell girls about the dangers of pimps, and to tell them how active they are in recruiting. Seattle Police Lt. Eric Sano said that last year the vice squad had gotten tips that there were pimps trying to recruit girls at Westlake Center. An undercover female officer was sent to the shopping center and looked "young and bored."
After only 45 minutes, Sano said, two young men started conversing with her and tried to recruit her. The conversation was later used to convict Roosevelt Johnson Jr. of attempted promoting commercial sexual abuse of a minor. Lester Dwight Payton Jr. was convicted of second-degree attempted promoting prostitution.
This series has been made possible by your donations via Spot.us and directly to PostGlobe, which receives no grants nor government money and relies on tax-deductible donations.

Donate here to support PostGlobe
ENTIRE SERIES
Special report: Gang members turn from selling drugs to selling girls for sex
Special report: Controlled and abused teens exploited in prostitution trade can't get out
Special report: Buyers of child sex are ordinary guys doing something illegal
Voices of the exploited… 'Make every day of your life count'
Prostitution sweep recovered 23 children; hundreds more still stuck in "The Life"
Teen prostitution: Prevention tips and warning signs
Lost and found: Home provides place for sexually exploited teens
At left: After a national prostitution sweep picked up 23 Seattle-area youths in early November, Washington Attorney General Rob McKenna and state Sen. Jeanne Kohl-Welles joined Seattle Against Slavery to launch a multi-language poster campaign meant to encourage victims of human trafficking — including forced prostitution — to seek help. Download a poster here. (Photo: Seattle Against Slavery)
ENTIRE SERIES
Special report: Gang members turn from selling drugs to selling girls for sex
Special report: Controlled and abused teens exploited in prostitution trade can't get out
Special report: Buyers of child sex are ordinary guys doing something illegal
Voices of the exploited… 'Make every day of your life count'
Prostitution sweep recovered 23 children; hundreds more still stuck in "The Life"
Teen prostitution: Prevention tips and warning signs
Lost and found: Home provides place for sexually exploited teens
 


Final day of the series
Leslie Briner works with children who have been forced to sell sex and finds that there's two stories that she hears again and again. One is that is that it started with a moment when they believed they could trust someone.
"Of all the girls I've worked with, they've said if I hadn't made that one choice, all these things might not have happened," she said.
The other is that as they were going through the process of being recruited, groomed, abused, controlled and turned out by violent pimps, there were adults – teachers, medical professionals, or relatives – who should have seen the signs of prostitution.
"I've had children say, 'I've been in the life three years and no one's ever asked,'" Briner said.
Briner believes that it's possible to save far more children from the life of prostitution, but a lot of things have to change in the way that law enforcement, social service providers and society as a whole understands and deals with commercial sexual exploitation of children. Briner is the associate director of residential services at YouthCare, a Seattle non-profit organization that serves at-risk youth, including those who are involved in prostitution.
Briner also helped with a prostitution sweep in early November by federal and local law enforcement, recovering 23 children in King and Pierce County. The sweep's purpose was to focus on girls who are being controlled by gang-affiliated pimps who are often also domestically and sexually abusing girls.
Police and social services providers were glad that they could recover the 23 girls, but they knew that they only had found a tiny portion of the children who are being exploited in the area. Estimates of the number of people under 18 involved in prostitution range as high as 1,000 in Seattle and King County.
FBI Assistant Special Agent in Charge Steven Dean said that a total of 26 adult prostitution suspects, nine pimping suspects and 23 children were arrested locally in the sweep, part of the nationwide Operation Cross Country that performed nationwide prostitution stings Nov. 5 through 8.
Seattle Police followed a victim-centered approach to the arrests, which meant that girls under 18 met with staff members from YouthCare. Briner participated in the sweep by meeting with girls after they had been brought in by police.
Girls are usually very uncooperative when they get arrested for prostitution, Briner said, but this time was easier. "They're so used to the cops leveraging information out of them, and then criminalizing them," she said. "Once they realized that we weren't going to jam up their lives, they were more cooperative." Several of them offered up the names of "bad johns," or abusive customers, Briner said.
She said that it was the first time that she'd seen Seattle police try a victim-centered approach to dealing with commercially sexually exploited children. Briner said that police had done well to have social workers and nurses available at the interviews, but in some ways the officers were still treating the girls like criminals – interrogating them first before the youth-services workers could talk to them.
The girls had been brought in by stings by undercover police officers, mostly over the phone from advertisements on Backpage.com and other Internet sites. Rainy weather in Seattle meant that there hadn't been much streetwalking activity. (Craigslist.org stopped allowing erotic services ads in September, but no one interviewed for this story thought that's put a damper on overall prostitution activity.)
A typical prostitution sting requires the undercover officer and the prostitute to make an offer and agreement for an amount of money to be paid for sexual services, but Briner said with these recoveries, the officers arrested the girls as soon as they met. The Becca Legislation in Washington state allows police to detain runaway children if they believe they are in danger even if there's no proof of a crime. "The goal was to recover minors," she said.
Of the 23 children who came through, Briner said, about 12 got booked into juvenile detention for old warrants and probation violations, but not for anything they did the night they were arrested. Another two went into shelters. Others were released to family members. Briner said that YouthCare staff were keeping track of all of them, and one-third of the girls had been known to YouthCare previously.
Seattle Police Lt. Eric Sano, commander of the vice/high risk victims unit, said that so far in 2010, Seattle police have recovered 77 prostituted children – last year, it was 30 total. The increase, he said, is because the department is putting more emphasis on recovering children this year.
A report by anthropologist Debra Boyer found 238 children who were known to be involved in prostitution in Seattle and Pierce County, and she estimated that actual total was between 300 and 500. Sano believes the number is closer to 800 or 1,000, although he doesn't have a scientific compilation.
Sano also believes the overall number of children who are being exploited this way is increasing because the Internet makes it easier for customers to find girls, and because gang members are getting involved as pimps, finding that recruiting, controlling and selling girls is a more lucrative and less risky business than selling drugs.
Law enforcement and social services agencies have been changing the way that they deal with girls who are being commercially exploited for sexual purposes. Part of Sano's job is to go around the state educating other police departments about commercial sexual exploitation of children and getting them to view girls under 18 who involved in prostitution as victims, not criminals. In some ways, the attitude change that has to happen is like the one that has to happen 25 years ago for domestic violence. Back then, he remembered, officers would often say, "Oh, I can't believe that's a mandatory arrest."
Police have also realized that exiting the life of prostitution is very difficult for girls because of the pimps – they control the girls through violence, and they recruit girls without other places to go, including runaways and children from the foster care system.
"When we recover a juvenile, returning home to the parents may not be the best option – or an option at all," Sano said.
One new service that YouthCare started this year is The Bridge (pictured at left), a residential facility with room for six girls at an undisclosed location somewhere in the Seattle area. The Bridge allows girls who have been previously exploited to live there for up to two years or until they turn 18, and the location is kept secret as many of the girls are fleeing from violent pimps who might try to get them back into the life of prostitution.
With room for only six girls, Briner said she knows that there's not nearly enough space to deal with all of the girls who need help, but she added that pushing for a change in public opinion is an equally important part of helping exploited children. "You'll never have enough specialized beds," she said.
Her hope is that as more people know about domestic sex trafficking, more adults will know to look for the signs of prostitution in children as young as 11 or 12 and have the nerve to ask: "Have you ever exchanged sex for money or a place to stay?"
This series is being made possible by your donations via Spot.us and directly to PostGlobe, which receives no grants nor government money and relies on tax-deductible donations.
Donate here to support PostGlobe
ENTIRE SERIES
Special report: Gang members turn from selling drugs to selling girls for sex
Special report: Controlled and abused teens exploited in prostitution trade can't get out
Special report: Buyers of child sex are ordinary guys doing something illegal
Voices of the exploited… 'Make every day of your life count'
Prostitution sweep recovered 23 children; hundreds more still stuck in "The Life"
Teen prostitution: Prevention tips and warning signs
Lost and found: Home provides place for sexually exploited teens