From former P-I music critic Gene Stout's blog:
No Jackson Browne concert would be complete without such signature songs as "Rock Me on the Water," "Running on Empty," "Doctor My Eyes" and "For Everyman."
Browne, backed by a four-piece band that featured longtime friend David Lindley, delivered them with the energy, flair and passion that fans have come to expect Friday night (July 30) at Chateau Ste. Michelle.
Read the full review here:
Seedspace is a collaborative effort of event coordinators, Venues and community organizers to help in the creation of Events around Seattle. We provides a platform in which we can grow together and cross pollinate.
Seedspace fulfills this mission by helping ongoing collaborative Projects, facilitating events, and sharing information on event resources. View our Ongoing Projects, and Events page to see what we are creating through Seedspace. Over the last few months Seedspace has helped develop a wide range of events in Seattle from Kids Reiki, Electronic Music Production, and more.
Seedspace has now increased in scope by working with more Seattle Event Venues. They now have 3 venues they are working with. They are Cirque Events Center, SPACE Venue and Education Center, and Urban Light Studios.
There is lots of excitment with this project, and I am sure they will bring out some great things over these next upcoming Months.
Check out there website to see what they are up to, www.seedspace.org.
Honestly, I can't for the life of me figure out the meaning of the closure/restructuring of the Seattle non-profit microfinance organization Unitus. But it could be a watershed moment for the anti-poverty movement so it's worth paying attention. Seattle is big on microfinance and social entrepreneurs.
Here's the gist so far as I can tell:
* Just before the 4th of July, the high-profile, non-profit Seattle-based microfinance organization Unitus shut down and booted its employees. (more)
Full story at Humanosphere
Here's a case for saving Puget Sound that you can take to the bank.
The Sound and the land, rivers, and lakes surrounding it provide benefits worth between $9.7 billion and $83 billion every year, according to a new study called "Valuing the Puget Sound Basin" from Earth Economics, a local nonprofit. The overall worth of the region is pegged at $305 billion and $2.6 trillion. How does this hardworking watershed do it?
In the West, snow melt provides approximately 70 percent of the drinking water, which if habitat was destroyed and snow fall diminished, would have to be replaced with the construction of costly reservoirs. Or take the region's Pacific yew trees, a source of the cancer-treating drug Taxol.
"In the past we've treated our natural assets as though the value is zero," said Maya Kocian, one authors of the report. (more)
more at Sightline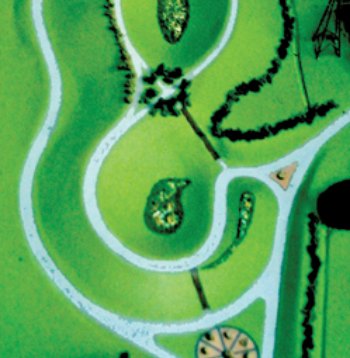 … and miniature golf courses…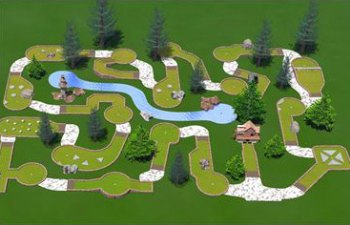 …is the Links Invitational at the Kirkland Arts Center, curated by Cable Griffith. Twelve artists turned the galleries into 9 holes of playable golf, with courses running down the stairs, across a table top and through a passel of sturdy constructions.
Putt through the stove top into the sink, rattle through the pipes to land on the ground. If you're going to get a hole in one, this is it.
Full story here at Another Bouncing Ball…
Bravo's Work of Art and Fox's So You Think You Can Dance head for the finish line with opposite problems.
The former arrived at the gate packing a fatal flaw: Of the 14 candidates, at least 9 were unsuited to the format. Week after week, we've seen weak after weak. Last night Jerry Saltz woke up to the problem and started blaming the victims, hurling insults at the artists. This show does not represent contemporary art, artists or how people talk about art. And yet, yes, I'm watching it. (Tick, tick: the sound of me wasting my life.)
RELATED
Jen Graves: discourse deterioration
We talk a lot on this blog about why people drive. Frequent points are made concerning perceived freedom, the motorist's willingness to "pay time to save money," the undercapitalization of transit infrastructure, the low marginal cost of individual driving trips once a car is owned, the modal lock-in caused by low-density development, etc., etc…
But I've been especially frustrated lately by 3 perverse incentives that don't get as much press:
1. The continued illegality of usage-based auto insurance. Current Washington State insurance regulations require that the full cost of an annualized policy be stated up front, effectively negating usage-based pricing factors (other than moving violations). Insurers and motorists thus have contractual frameworks in which risk is priced only as an all-you-can-drive buffet, actively penalizing those who own cars but drive comparatively fewer miles. Sightline.org has continually lobbied for a regulatory change, Unigard won federal money in 2007 for a pay-as-you-drive (PAYD) pilot project in Seattle, and in early 2009 State Sen. Tracey Eide (D-Federal Way) introduced legislation (SB 5708) to correct this… (more)
"No one should believe that most of the food in U.S. stores was grown or processed here" in the United States, writes former P-I investigative reporter Andrew Schneider, now with AOL News, after attending the Institute of Food Technologists Annual Meeting and Food Expo in Chicago. There, he writes, most of the world's top research chefs, scientists, food-safety experts and others gathered.
He notes:
A couple of hours weaving through the maze of 2,100-plus booths in the hall and it was obvious that far fewer than half of those touting their wares were North American companies.

China, with red banners marking the scores of government-sponsored chemical and food suppliers, clearly dominated the pack. India, pushing its spices, synthetic flavorings and teas, was a far second…

Many scientists — government, academic and industry — spoke on how and why to protect the food chain from the skyrocketing amount of foreign-produced food flooding across U.S. borders.
Full story…
***
ALSO BY ANDREW SCHNEIDER
Study: Receipts could be harmful to your health
Study: Many sunscreens may be accelerating cancer
Senator tells FDA to speed up study of sunscreens
Next month Governor Gregoire will decide whether to call a special session or issue across-the-board cuts to deal with the state's current budget deficit. With the reluctance of lawmakers to
agree to a special session (despite the request for one by Sen. Zarelli) the Governor will likely issue across-the-board cuts of between 3 and 5 percent.
As we pointed our earlier this month, this option does not allow the Governor to leave a reserve meaning she could be forced to issue additional across-the-board cuts again in September and November depending on what happens with the state's revenue forecasts.
Aside from the inability to leave a reserve, the across-the-board cuts option treats all spending equally and doesn't provide the opportunity to make strategic or rational decisions on which programs are more important than others.
This is why the Governor should be provided more budget deficit tools, especially with a part-time Legislature.
It appears the Governor will actively seek these tools next session. According to The Olympian:
Gregoire said the law allowing across-the-board cuts is too blunt and she would like it amended next year. "I don't think this is the right tool for a governor. The last time we used it was 1991. I think it is a ridiculous tool," Gregoire said, referring to a lack of discretion on priorities that she would like a governor to have in situations like this one.
The National Conference of State Legislatures reports that Governors in at least 10 states have more flexibility to respond to a budget deficit than Gregoire.
Last year I met with officials from the Office of Financial Management (OFM) to discuss this type of reform. At the time OFM said it was considering proposing the following changes to state law to define what the Governor could do:
List programs to which the Governor could not make reductions in allotments.
List program areas in which reductions in allotments would not exceed a certain percent (i.e. 10%)
List program areas in which reductions in allotments would not exceed a certain percent (i.e. 7%)
List programs areas in which reductions in allotments would not exceed a certain percent (i.e. 5%)
List program areas in which reductions in allotments would not exceed a certain percent (i.e. 2%)
Create a joint legislative committee to whom reports of actions under this section is provided.
A simpler solution would be to authorize the Governor to make discretionary cuts (instead of across-the-board) to eliminate a projected deficit and leave up to a one percent reserve. Reductions in programs for the independently elected statewide officials could be contingent on approval from those officials.
This broader deficit reduction authority for the Governor would help incentivize lawmakers to leave an adequate reserve that can weather all but extraordinary drops in revenue while providing the Governor the flexibility to swiftly address a deficit in an intelligent manner.
Jason Mercier is the director of the Center for Government Reform at the Washington Policy Center. He serves on the Executive Committee of the American Legislative Exchange Council's Tax and Fiscal Policy Task Force and is a contributing editor of the Heartland Institute's Budget & Tax News. Mercier also serves on the board of the Washington Coalition for Open Government and was an adviser to the 2002 Washington State Tax Structure Committee.
RELATED
Special session unlikely, reports Austin Jenkins