Has a place for her stuff.
(Made by journalist and occasional purse-maker Linda Thomas.) See more photos here
Further reading
Prior posts here and here and here in Regina Hackett's "He Who Digs Newspapers" series
Find more at
A business matching the description of 12th Ave's Capitol Hill Market appears to have been the victim in one of the biggest business burglary losses we've covered lately. And the crime went down less than 300 feet from East Precinct headquarters.
A witness saw the thief exiting the store through the busted door, knocking broken glass to the ground as he squeezed through with the cash. According to the report, the witness said the man appeared to be Asian or Hispanic, with a shaved head, wearing dark pants and a gray hooded sweat jacket.
Seattle's East Precinct headquarters is located at the intersection of 12th Ave and Pine, about a tenth of a mile from the 1700 block.
Capitol Hill will soon have a new park and that park will have a name and that name will be Seven Hills Park and Seven Hills Park will have a p-patch…
And the p-patch will have a table, two benches and a sign.
The Howell Collective, a group formed around the community garden space, has put out a call for artists to design these green space accoutrements:
Originally uploaded by
The Howell Collective is a community garden project serving the residents of Capitol Hill and beyond. With support from the Seattle Parks and Recreation and the Seattle P-Patch program, the Howell Collective hopes to create a space of value that will bring together the community, offer relief from the surrounding dense urban environment, and support the engagement between neighbors and nature.

The Howell Collective is currently seeking proposals for three pieces that will be featured in the garden: a TABLE to be used for demonstrations, projects and gatherings; a SET OF TWO BENCHES to be positioned in different parts of the garden as designated sitting areas; and a SIGN welcoming guests to the garden.

Artists may submit proposals for one, two, or all three pieces. Pieces must be weatherproof, durable, use materials closest to nature, and reflect the Howell Collective's mission statement.
More info, requirements and, importantly, budget info here.
The group also reports that the start of construction on Seven Hills Park has been pushed back to April.
Attention transit riders: no-fee ORCA cards are only available for two more days.
Obtain an ORCA card without fee through February 28th, after which the card will cost $5.00 on top of any fare money you load onto it.
Photo: Center for Whale Research
ORCA cards are accepted on KIng County Metro Transit, Sound Transit, ferries, and other regional transit systems. (The complete list is here.) Cash still works on these systems, too.Order your no-fee ORCA card online at the ORCA card site, or use a ticket vending machine located at Link light rail stops (the closest is at Westlake) and at the King Street Sounder Commuter station.
Also important to note: as of January 1, the ORCA card replaced paper transfers between transit systems (Metro bus to Sound bus, for example) and within the Sound transit bus system. To avoid paying a second fare for the same trip when moving between systems or within Sound transit, you will need an ORCA card. For the time being King County MetroTransit is continuing to offer paper transfers good within their own system only.
I ordered my ORCA card online and recieved it in the mail about 10 days later. The registration process is a little tricky — I didn't do it quite right the first time back in December and didn't get my card in my first attempt.
Speaking of orcas, a new orca calf was spotted off Vancouver Island this week. This first photo of the calf is by Dave Ellifrit with the Center for Whale Research.
Can collect different shades of ice queen.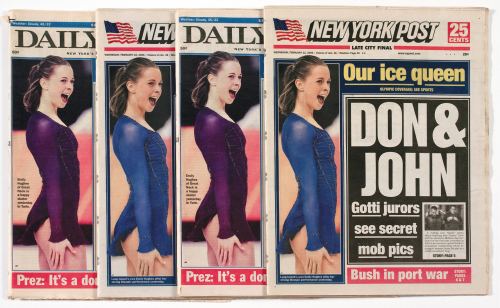 Prior post here in the "He Who Digs Newspapers" series
more at Another Bouncing Ball
This is the final weekend to see vampire bats and some other animals at Woodland Park Zoo, as March 1 marks the closure of its Night Exhibit (a.k.a. Nocturnal House) and the departure of some animals that weren't reassigned to other spots within the zoo. A Facebook campaign with more than 25,000 followers wasn't able to thwart the closure.
Sound the bagpipes.
All of the following will be off exhibit as of March 1 and sent to new homes at other accredited places:
Seven blind cave fish like these from Newport Aquarium. (Photo courtesy Ltshears via Wikimedia Commons)

***
Two Coendou (prehensile-tailed porcupines) like these. (Photo originally posted to Flickr as Prehensile-tailed Porcupine (Coendou prehensilis)
***
Two Douroucoulis ("night monkeys") like this one. (Photo via Monkeyland)
****
Two Galagos ("bushbabies") like this one. (Photo courtesy Joachim Huber via Wikimedia Commons)
**
One Tawny frogmouth like this one. (Photo courtesy Skewmeister via Wikimedia Commons)
***
All 19 vampire bats like this one like this one from the Louisville Zoo. (Photo courtesy Ltshears via Wikimedia Commons)
***
All 8 African straw-colored bats like these (Photo via)
***
The zoo's sole Australian gray-headed bat also will vamoose. We couldn't find a photo of it.
FURTHER READING
So long, vampire bats: Zoo to close Night Exhibit March 1; can Batman come to the rescue?
Fans try to save zoo's nocturnal house; zoo indicates there's no hope
It's a little tough to tell, but it sounds like the idea of raising taxes on petroleum products and other toxic materials to pay for cleaning up stormwater runoff could have trouble getting through the recession-battered Washington Legislature this year. Taxing pollutants to pay for pollution cleanup may be too simple an idea, I suppose.
Today enviros are calling for green-minded citizens to e-mail their representatives in Olympia in support of what they're calling the Clean Water Act of 2008 (HB 3181/SB 6851). It would raise taxes on petroleum and other toxic products that represent the biggest single environmental threat to Puget Sound — not to mention putting a whole bunch of other Washington waterways into violation of the federal Clean Water Act. The Clean Water Act passed in 1972. The one that was supposed to control water pollution by 1985. (more)
In the distant past, the wide sweep of desert and dark sky enfolded travelers in what is now part of Western New Mexico. Little has changed in that small corner of the world, except the 400 stainless steel poles inserted into the ground in a mile-wide grid: Walter De Maria's Lightning Field.
Indoors at Seattle's Lawrimore Project, Tivon Rice's installation, A Macrocosmic Zero, offers a claustrophobic version of De Maria's exhilarating vista. Instead of poles sunk into the ground, there are tubes hanging from the ceiling in a circular maze. (more)
more at
As budget debates heat up in state legislatures around the country it is a good time to review economic arguments for investing in early learning and Nobel Prize-winning economist James Heckman's ideas are a great place to start.
With videos, flyers, pamphlets and a slide show, the University of Chicago economist makes a powerful case for the Heckman Equation, which argues that investing in child care returns 10 percent per annum. (more)
more at